Modern Nursery Nest highchair becomes a regular chair
There's nothing like a baby highchair to take the style out of your hipster pad (assuming the baby hasn't flung nappy-contents all over whatever style you had left after sixty hours' labour). Modern Nursery solves this with the Nest High Chair which starts out as a slick (but still eminently functional) baby chair, and repurposes, with removal of only a few screws, into a booster seat suitable for 2-4 year olds, and then a regular small chair to take your sprog up to age 6. Angelina Jolie has one, so you'll not be surprised they cost $570 USD. [GT]
Nest High Chair [via Curbly]
More kids stuff
February 22, 2007 in Kids stuff | Permalink | Comments (0) | TrackBack
Review: My Daddy is a Pretzel
Kids are super-bendy so yoga should be right up their street. It isn't the most accessible of activities, though... right?
My Daddy is a Pretzel is a light-hearted look at yoga from Barefoot Books, which may be just the way to introduce yoga to the smaller members of your family.
You can also buy a bendable 'Mr Pretzel' figure (who, let's face it, will be better at demonstrating the positions than most of us) and a box of Yoga Pretzels - 50 cards with quick activities, games and positions.
The book links familiar concepts to yoga postions, using fabulous illustrations to show exactly how to do each one. It is a colourful, charming book that introduces yoga to children (and bah humbug adults) beautifully.
The Yoga Pretzels box takes the idea further, with loads of ideas like Elephant Breath and 'Yogi Says'. I particularly like 'Special Place', which my six year old can use when she is feeling anxious.
My Daddy is a Pretzel (hardback) is £10.99, Mr Pretzel is currently £3.99 on special offer, while the box of Yoga Pretzels will set you back £9.99.
Related stories: YogaBugs | Reviewed: Green Parenting book
February 13, 2007 in Kids stuff | Permalink | Comments (0) | TrackBack
Petit Papillon baby sale
Baby goods, not babies... The Petit Papillon winter sale includes the blue pixie hat shown here, which is hand-knitted and only £9. But if your budget is a little bigger (or even if it isn't and you're going to pretend) see the Cosmopolitan Style Pure Merino Wool Blanket & Cap Set, done in broad creamy stripes of soft lamb wool. Normally £130, on sale for £90. [GT]
More Kids stuff
January 30, 2007 in Kids stuff | Permalink | Comments (0) | TrackBack
What's Rubbish? Game for small recyclers
I reckon the best way to teach your kids about ethical living is to set a good example. However, there is nothing wrong with hammering home the message through the medium of play.
Orchard Toys's What's Rubbish? is a board game that teaches children which items can be recycled - and a dash of maths, too.
Related stories: The Green Board Games Company | Better than Monopoly | CO2FX: global warming game
January 23, 2007 in Kids stuff | Permalink | Comments (1) | TrackBack
TITAN hanging cradle
Toss those complicated baby cribs with the slats and mats. The TITAN hanging cradle is a simple pine tripod with a cotton-slung basket hanging in the center. It's not the most stable furniture so it won't do once your baby can sit up on its own, but nor will it take up that much storage space then either. Overall size: width 142 x height 250 to 270 x depth 122cm. £309. [GT]
Related stories: Kari-Me baby sling: five poses, no straps | Truuuly Scrumptious Organic Baby Food | Organic fleece Grembo baby sleeper
January 14, 2007 in Kids stuff | Permalink | Comments (0) | TrackBack
Beat the January blues with Little Errol
What I need during these dark, rainy days, is a constant, friendly and, above all, cuddly companion. Yes, I know I've got two kids, two cats and a husband, but I feel I need to make an addition to the family... I want a Little Errol.
Although I'm not entirely certain why. Perhaps it is because he is hand-crafted from reclaimed blankets, or perhaps it is his vacant, but somehow ultimately reassuring expression. I think, however, it might be because the current owners (ecocentric) urge me to: "Personalise him, accessorise him and repair him when he wears thin to create a loyal, lifelong companion."
Related: miYim organic cuddly toys | Organic veggies you can cuddle
January 9, 2007 in Ethical & green gifts, Kids stuff | Permalink | Comments (0) | TrackBack
Zubbles brings colour into bubbles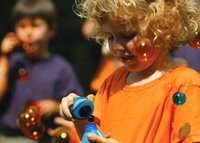 It was supposedly scientifically impossible to make bubble solution that could have colour aside from the typical rainbow spectrum that we're all used to, but the fellas at Zubbles have them coming out this spring in vivid purple, yellow, green, orange and red. Non-staining, the colour disappears as the bubble hangs around, so you don't have to worry about your kids turning rainbow (or your carpet). Outdoor biodegradable fun for when it warms up outside (should it ever cool off!). [GT]
Related stories: The Great Ethical Toy Guide | Tree House toy from Natural Collection | 2006 roundup #33: Kid toys of the heirloom (Automoblox) or recyclable (Ectopia cardboard fort) variety
January 9, 2007 in Kids stuff | Permalink | Comments (0) | TrackBack
gDiapers are flushable nappies
I swore I'd never write about nappies again but the gDiapers are just too good. Disposable, flushable, 100% biodegradable, no perfumes, no plastic, no ink, dye or garbage. You insert a padded liner into the exterior pants, and when it's, ah, done, you just unsnap it, tear it open, and pop it down the loo. There's a little swizzle stick so you can break it up in the bowl if need be, but considering the alternatives (disposal of a dirty nappy or carting around soiled cloth ones) you'll want to learn more about these. And they're pretty. [GT]
Related stories: Site of the week: Cloth Nappy Review, I love you | Plush Pants: a Cloth Nappy Library | Green Baby alternative for eco-nappy fans
January 8, 2007 in Kids stuff | Permalink | Comments (0) | TrackBack
2006 roundup #24: Cloth nappies (and Plush Pants) get easier to deal with
Disposable nappies result in millions of tonnes a year in landfills, of organic material wrapped tightly up in plastic, which means it is definitely not going to biodegrade properly. That said, no mother is going to give up the convenience of disposables without thinking twice - not to mention the energy consumed in cleaning the cloth kind and the difficulty of finding the right one for you. The Plush Pants cloth nappy library and Cloth Nappy Review both provide some terrific assistance on that front. You put down a deposit with Plush Pants and they lend you up to 3 nappies at once. When you buy, then your deposit is applied to your purchase. This way you get to be totally sure they do what you need. However, you can streamline the process even more with a visit to Cloth Nappy Review, a great site that took the whole cloth nappy search out of my tired hands (having chatted on everything from the No Excuse! Cloth Nappy Campaign to Wam-Bamboo nappies to Green baby alternative nappy options to Lollipop silk nappies). Four years ago when I started looking for material like this, it was really difficult, but now there are some great niche sites with deep analyses of specific green lifestyle issues. [GT]
Original stories: Cloth Nappy Review, I love you | Plush Pants: a Cloth Nappy Library | No Excuse! Cloth Nappy Campaign | Wam-Bamboo nappies | Green Baby alternative for eco-nappy fans | Lollipop reusable nappies in cotton and silk
December 25, 2006 in Green News, Kids stuff | Permalink | Comments (0) | TrackBack
Tree House toy from Natural Collection

Natural Collection has a lovely new range of wooden toys, made by a multiple award winning manufacturer, who has also been awarded the SA8000; a social accountability standard.
You can enjoy these toys with a clear conscience, as the international certification covers worker's pay and conditions, as well as prohibiting the use of child and forced labour.
They also use lovely non-polluting water-based paints, latex glues and absolutely no PVC in their packaging - which is made from recycled materials.
The rubber wood used comes from trees that have ceased yielding latex, and thus need felling in order to replenish the plantations.
The toys are imaginative, too, with this gorgeous tree house alongside the more traditional Noah's Ark and rocking horse.
Related: Ethical toy guide | Holz wooden toys | Organic veggies you can cuddle
December 22, 2006 in Kids stuff | Permalink | Comments (0) | TrackBack