Make Your Own Shoes
Frustrated with ephemeral changes to women's footwear and the astronomical prices charged for a few scraps of silk and leather covered in glue, Mary Wales Loomis decided to learn to make her own shoes. Possessed of sturdier construction than most fashion wear, and just as up-to-the-minute (your model, she says, can be easily updated to change the few bits that actually vary) your handmade shoes will also fit you perfectly since they're based on a 'last' modeled from your very own foot. $26 USD for her book on how. [GT]
Make your own shoes [via Trendhunter]
More do it yourself, fashion
February 28, 2007 in Do It Yourself, Fashion & accessories | Permalink | Comments (0) | TrackBack
2xist Soy Collection: softer than cashmere?
The new Soy Collection from 2xist features some attractive eco-models frolicking in soy-based briefs which are 95% soy, with 5% nylon for body. The soy fabric has similar wicking properties to silk and is, they say, softer than cashmere. It's also antimicrobial and has natural UV protection, so you don't have to remember sunscreen while you frolic with the models. Starting at $19 USD. [GT]
Soy Collection from 2xist [via Cool Hunting]
February 23, 2007 in Fashion & accessories | Permalink | Comments (0) | TrackBack
Fairtrade organic cotton T-shirts from Traidcraft
This pretty pink crew-neck is tailored at Craft Aid in Mauritius which provides valuable employment opportunities for disadvantaged members of the community. Plus, it's made from organic cotton, so no nasty chemicals. Priced £22, it is from Traidcraft's new spring collection, which includes charcoal linen trousers, vest tops and flippy skirts. [Sarah Painter]
Related stories: H&M launch organic cotton collection | Fully organic tees
February 21, 2007 in Fashion & accessories | Permalink | Comments (0) | TrackBack
Bush (not that one) bags a green future
Lauren Bush (George W's niece, shown here toting another of those oh-so-trendy eco tote bags) is breaking with family tradition and establishing herself among the green glitterati: she's announced that she's developing an 'organic lifestyle brand'.
Ms Bush has so far been cagey about the details of her own green venture, but she turned up at New York Fashion week with the burlap tote on her shoulders, bearing the words 'feed the children of the world'.
Knowns as the 'feed bag', Bush explained that as part of a project of the United Nations World Food Programme, each bag will feed an underpriviledged child in school for a year. The bags are due to go on sale via Amazon.com as of 1st April.
February 21, 2007 in Fashion & accessories | Permalink | Comments (0) | TrackBack
Gorgeous kimonos recycled into gorgeous bags by Tokyomade
The Itchi Puchi is about the most succulent and meltingly beautiful, yet eminently practical, handbag I've seen in ages. Lined with suede (purple and lime, for dash) and with a punk pink leather strap, the exterior is vintage chirimen, kimono silk and a delightful combination of style, whimsy and luxuriousness. Designed and hand-made in Japan by Tokyomade and only $85 USD. I want one of these in the worst possible way. [GT]
Itchi Puchi and other luscious goods at Tokyomade
February 21, 2007 in Fashion & accessories | Permalink | Comments (0) | TrackBack
Recycled fashion event: From Waste to Wear
We've just had a week of fashion mania at Shiny Towers, so the Hippyshopper team have been hard at work looking through the haze of frocks, canapes and champagne, and keeping tabs on designers' ethical credentials.

On Thursday, I decided to see what the current crop of eco fashionistas had been up to, and dropped in on Refashioned: From Waste to Wear; the only event dedicated entirely to ethical fashion to spin off from London Fashion Week.
Many of the top names were in attendance, with catwalk shows from: Rebecca Earley, designer, researcher and curator of last year's Well Fashioned: eco style in the UK exhibition; TRAID Remade, the fashion label from the people behind the textile recycling charity; stylish vintage customisers From Somewhere, and aGaiN NYC, the hip US label that specialises in turning 'junk into funk'.
Having covered a fair few catwalk shows for our sister sites, I can honestly say that the 'greener' end of fashion is well and truly holding its own if these collections are anything to go by...
In fact, I was surprised there weren't more of them. Where were our old favourites Junky, Patagonia and Enamore?
The labels exhibited here were switched on, stylish, and above all, current. Not a rainbow beanie or dodgy hemp number in sight... From somewhere (left) had picked up on the trend for high-waisted dresses and oversized tops, choosing soft, neutral colours contrasted with polka-dots and stripes. B.Earley's shirts and printed leggings, meanwhile, referenced natural forms like bamboo and wild flowers. aGaiN NYC excelled in quirkily customised vintage bags and accessories.
Representing the shoe side of things were Worn Again, whose recycled trainers looked even better close up than they do on the site: the choice of materials they've used is fab - checks, bright colours and suit material - and the melted plastic soles create a unique camouflage effect.
The evening rounded off with a series of workshops and activities, including a drop-off point for old clothes, organised by TRAID.
February 19, 2007 in Events and happenings, Fashion & accessories | Permalink | Comments (0) | TrackBack
Katharine Hamnett saves the future with Lily Cole
Save the future is the slogan of Katharine Hamnett's new "Cotton Campaign", which not only includes the vest worn by Lily Cole (available online soon) but also a whole line of environmentally conscious jewelry made from ethical metals, and named after Greek gods and goddesses. Hamnett is working with the Environmental Justice Foundation to establish EU Regulations to stop the import of cotton made from child labour. [GT]
Katharine Hamnett's Cotton Campaign [via Vogue]
More fashion
February 19, 2007 in Fashion & accessories | Permalink | Comments (0) | TrackBack
Today's tote: Dorothy Perkins recycled shopper
It's official: bags are the 'green fashion item' to be seen with this season, and every shop under the sun is bringing out its own recycled tote. The latest I've spotted is this Recycled Shopper from Dorothy Perkins, a nice take on the current 80s-style big text craze sparked by House of Holland. It costs just £8, and bears the legend: 'one person's rubbish is another person's treasure'.
Bandwagon? I think so. But at least this one runs on green energy.
[Via The Bag Lady]

Anya Hindmarch's 'I'm Not a Plastic Bag' bag |Ecoist's 'Confetti' Sweet Wrapper Clutch
February 16, 2007 in Fashion & accessories | Permalink | Comments (0) | TrackBack
Loiste II self-winding cog watch with double moon phase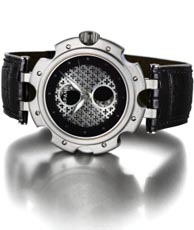 The Loiste II watch was originally designed by the shape of a motorcycle kickstart pinion. It also incorporates a double moon phase display, one for the northern hemisphere and one for southern. The watch uses a 'Turbini' winding mass, which are kinetic self-winding gears that rewind itself every time you move, and you can watch it move. So no battery needed, and 42 hours standby life when you take it off. [GT]
Loiste II watch [via Cool hunting]
More fashion
February 16, 2007 in Fashion & accessories | Permalink | Comments (0) | TrackBack
It's here! The M&S top: made from 11 plastic bottles
A month ago we reported that Marks and Spencer's would soon be making clothing out of bottles as part of its £200m eco-plan. So if you were wondering what this would look like, here's a taster. The first item to be displayed is this black fleece made from 11 plastic bottles, which look like, well, a fleece. It's not going to be wowing 'em at London Fashion Week, but M&S sells a lot of fleeces, and making staple wardrobe items from recycled materials makes perfect sense when you consider that the chain will save 6000 barrels of oil a year to make fleeces alone.

Related Stories: M&S announces unprecidented green overhaul | The green welly brigade
Added to that the bottles that would have otherwise gone into landfill, and you have a coat that would make the most cynical among us feel as warm and cosy inside as out. The brains behind the recycled clothes are Greenpac, an innovative recycling organisation that worked with M&S to create the new line of clothing. The fleece is just the beginning of the suggestions Greenpac are putting to M&S, and it'll be very interesting to see what they do next. They seem to be full of good ideas!
February 15, 2007 in Fashion & accessories, Green News | Permalink | Comments (2) | TrackBack