« September 2006 | Main | November 2006 »
DIY Wallpaper Paste
Skip the chemical-laden wallpaper paste from the hardware store - it offgasses forever and Care2 has a non-toxic wallpaper paste recipe that you can whip up as long as you have enough cooking skills to make cream of wheat. Ingredients are water, flour, alum and clove oil - cook, cork and brush on. Lasts two weeks in the fridge. [GT]
Wallpaper paste recipe [via Treehugger]
Related stories: Make your own eco-friendly paint | Build your own solar oven | Build a workbench from an old fridge
October 31, 2006 in Do It Yourself | Permalink | Comments (0) | TrackBack
Terra Plana winter '06 collection
Shoes even a tiger would wear - rather than eat, since they're far, far too vegan - are yours for the picking at Terra Plana. The Winter 06 collection features black or tan Boi style or Andrey in chocolate or biscuit - can a showing of Idlewild in your socks be far behind? [GT]
The Terra Plana Winter 06 collection
Related stories: Green Shoes with Vegan option | Winter shoes to keep you on your bike | Put on your recycled dancing shoes
October 31, 2006 in Fashion & accessories | Permalink | Comments (0) | TrackBack
Solar powered corpse light
Purportedly for Halloween, the Corpse Solar Light works pretty well as a Day of the Dead decoration too - so well that it's extremely back ordered (which is a terrific sign from the Hippy perspective). The corpse (or zombie, in the parlance of the genre) is about a half meter high, holding a gruesome lantern with a solar cell so you can, as it were, set it and forget it (until the Necromancers Anonymous meeting across the way complains). $89 USD. [GT]
Corpse Solar Light [via Gizmodo]
Related stories: DIY: Solar Jack-O-Lantern | Solar Crystal Ball Garden Lights | Aimulet LA: wireless, solar, audio, bamboo
October 31, 2006 in Green gadgets | Permalink | Comments (0) | TrackBack
Power Aware Cord glows brighter as you use more juice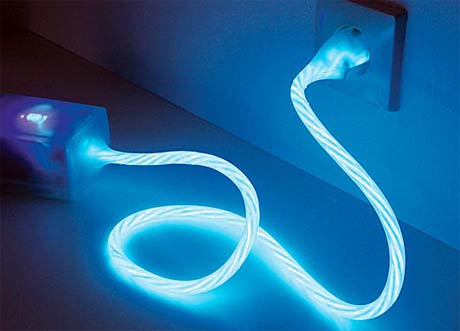 Instead of the same old rubberized black power cable, the Power Aware Cord pulses brighter and brighter as you draw more electricity. Developed by Anton Gustafsson and Magnus Gyllenswärd for STATIC!, the idea is to draw attention to not only how much power you're using (in hope you'll consume less) but also that simply by seeing the electricity flow, you'll become more aware of your overall relationship with your gadgets. (The next step is not taking them to couples counselling; they already go without you.) [GT]
Power Aware Cord [via Fosfor]
Related stories at Hippyshopper: ethical consumerism: Evesham Carbon Free PC | Tumi LE Powerpack Backpack gives twice | Clinton gives out Solio chargers
October 31, 2006 in Green gadgets | Permalink | Comments (0) | TrackBack
Fivelimes is live
I've been to Fivelimes on several occasions, having been the lucky possessor of one of their advance-viewing Golden Tickets, but it is now flung wide open for the entire world to experience. The idea is for people to post both a quality and sustainability rating on products listed in the Fivelimes database - Ecowork furniture, for instance, is listed as being 5/5 for quality and 3/5 for sustainability. While all product categories are opening up at a reasonable speed, they're getting hundreds of submissions about clothing so that's a potential source of considerable eco-fashion know-how.
[GT]
Related stories: SOTW: StyleWillSaveUs | Rodale Names First Brand Editor for 'Prevention' | New Consumer: The UK's only fair trade magazine
October 30, 2006 in Arts & information | Permalink | Comments (0) | TrackBack
Save the earth: don't go to work
The RAC Foundation is specifically appealing to the business community to stay home. Telecommute, that is. RAC estimates that fully half of all UK workers work in information technology of some sort, which can generally be done from any location (and trust me, I have). There's no reason, they argue, to have those people clogging up the roads needlessly. If all IT workers stayed home one day a week, it would cut emissions by 1%, and eliminate 1.7 million car trips. RAC also asks companies to teleconference and videoconference, have internal blogs and wikis, and generally make it easier for people to get information without having to go over and ask Johnson for it.
Speaking as someone who has telecommuted 95% of the time, the rare occasions where I am demanded to be on site are generally still goofy. Any job that can be done with a computer can be done in a bathrobe on a beach. Go home! [GT]
RAC Foundation [via Tech Digest]
Related stories: Eye Catcher Videophone | Evesham Carbon Free PC | Donate your spare computer (cycles) to climate change
October 27, 2006 in Planet saving | Permalink | Comments (1) | TrackBack
Friday's ecospot: Fordhall Farm
You needn't go somewhere far or exotic to have a relaxing weekend: trip up to north Shropshire to spend some decidedly old-fashioned time at Fordhall Farm. Chemical-free for 65 years (yet not certified organic; they're working on it), all their animals are free-range and they make their own organic ice cream. If you're short on plans for the 4 & 5th weekend in November, you can sign up to volunteer there as a hedgelayer - "another great weekend of hard work and fun". A great opportunity to be tired from actual work, as opposed to simply doing work that makes you feel tired. [GT]
Related stories: Organic Tuscany | Have a VegiVentures Christmas | Botelet Farm
October 27, 2006 in Transport & travel | Permalink | Comments (0) | TrackBack
Sun And Wind Powered Ferry
It's so dashed logical that a ferry should be powered by sun (which it's in fully half the time) and wind (which it's in nearly all the time) that Hornblower Yachts is teaming up with Australia's Solar Sailor to do exactly that. Costing between 3 and 4 million pounds each, they'll emit half the pollutants of a conventional ferry and start operations in 2008. The solar power comes from a central wing (which also functions as a sail) which is covered with solar panels. If the wind gets too high, the wing folds up, and the ferry goes back to diesel power. [GT]
World's first sun and wind-powered ferry [via Spluch]
Related stories: Home Wind Turbines Turn Fashionable in Britain | Your own award-winning power plant | Plant a wind farm in your garden
October 27, 2006 in Transport & travel | Permalink | Comments (0) | TrackBack
EarthBox: a complete garden in a pot
Well sure, we'd all love to have fresh garden vegetables with next to no effort - but apparently with the EarthBox we actually can. Using a combination of smart fertilizing techniques and water management that prevents both over and under watering, it's mostly smart thinking, rather than technological advancements, that make the EarthBox look like an appealing piece of gear. And at only $60 USD for an entire kit, it looks well worth a try - I'm thinking about picking up one for myself. [GT]
Related stories: Composting if you don't have a garden | Iota garden decor | Orkney Seaweed for Your Garden
October 27, 2006 in Plants & gardens | Permalink | Comments (0) | TrackBack
Dryer Balls reduce static, lint, drying time
I'm guessing the way these Dryer Balls work is, by bouncing around they keep the clothes from getting into knots that can't dry properly. (Assuming they do in fact work: post any experience with them in comments, please!) Made by Ecozone, Dryer Balls are supposed to act like dryer sheets (without the incredibly toxic perfume and waste) in that they soften clothes and prevent lint and static, and also apparently reduce drying time by a whopping 25%. Wow! If they really are all that, £7 for two would be a real bargain, considering how much electricity that would save you. But I'd really like some impartial comment. Meanwhile, check related stories for some definite energy saving bargains. [GT]
Related stories: Swap that hot halogen for a cool GU10 Hi Power LED | Build your own solar heater for under £200 | Water saving gadget roundup
October 26, 2006 in Energy saving | Permalink | Comments (4) | TrackBack